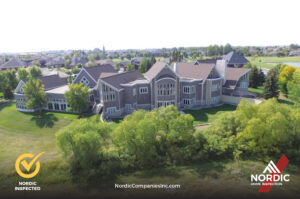 We inspected the largest home in Fargo, North Dakota – TWICE!
The home was built in 2000 and was sold in 2007 for $1.8 million. The property tax in 2012 was $38,000!
In 2013 this was the most expensive home in North Dakota and was listed for 3.249 million ($438 per square foot) although the assessed value was $1.83 million.
Several real estate companies listed the home before it eventually sold as FSBO in 2018.
The home sits on a 1.1 acre lot along the Rose Creek Golf Course. The 7,241 square feet the home includes 6 bedrooms, 10 bathrooms, 2 kitchens, a 32-foot vaulted ceiling living room, a movie theater, a full wet bar, indoor barbecue, a 2,500-square-foot spa with a 10-meter lap pool, an eight-person hot tub, a steam room and a dry sauna, and a gigantic office with panoramic views of the golf course.
It took two inspectors nearly 6 hours going through the home, and the report writing took nearly as long.
Resources:
www.finance-commerce.com
www.bestthingsnd.com
www.inforum.com
www.zillow.com